Management Policy
The EKK Group Management Philosophy
Management that respects human dignity based on care and trust
Open management with a firm solidarity without factions
Management that withstands adversity without sparing extraordinary efforts
Systematic management that always seeks the ideal
The EKK Group Management Policy
Concentrate management resources on priority areas to become a parts manufacturer with rising strength and originality.
Reduce costs in all functions, ranging from frontline sales personnel to the shop floor, to further solidify the earnings structure.
Study ways to improve quality to produce and achieve worldwide sales of unique and socially useful products backed by our technologies.
Basic Management Policy
EKK's basic management policy is that a corporation is the property of three stakehold ers—namely, shareholders, employees, and the community. As such, EKK aims to become a company that justifies the pride of these three and other stakeholders, including cus tomers, suppliers, and financial institutions. Based on this policy, EKK will continue its efforts to become a solid and profitable company based on a commitment to complying with laws and regulations and providing products that contribute to society.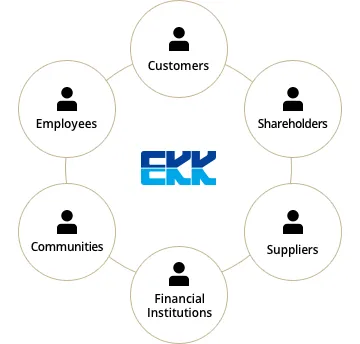 Customers
Supply high quality products that meet customer needs at reasonable costs, with effective delivery times, and in an appropriate manner.
Provide appropriate maintenance, repair, and other after-sales services for products delivered.
Act as a reliable partner with technical strength that supports new product development and expansion to new fields.
Employees
Enable employees to earn appropriate remuneration through their effort.
Contribute to communities through production activities.
Provide employees with opportunities to acquire the resources to achieve their goals at high levels and enjoy physical and mental wellbeing.
Communities
Ensure stable tax payments and create job opportunities through sound corporate activities.
As a Group, develop extensive ties with communities and contribute to the revitalization of local communities.
Help to protect the environment through our products.
Financial Institutions
Carry out credit offerings and other financial transactions repeatedly and consistently to earn appropriate profits commensurate with risks.
Increase applications in financial trading through transactions and boost corporate credibility.
Suppliers
Deliver products and services in a reliable manner to earn appropriate compensation for them.
Increase technical capabilities and open new fields, or boost corporate reliability through transactions.
Shareholders
Increase corporate value in a steady manner.
Achieve and maintain a balance between dividends and internal reserves to strengthen our corporate standing and ensure appropriate dividend payments to shareholders with stability over the long term.