Coating technology
The selection of sliding materials is important key to meeting a wide variety of requirements for mechanical seal.
With increasing demands for mechanical seal performance against a backdrop of energy conservation and reduction of environmental impact, using only conventional applied material is difficult to maintain sealing performance. Coating technology, which can modify just surface properties without changing the substrate material properties, provides a solution to such problems.
The synergistic effect of coating and design technologies can significant expand the range of mechanical seal applications.
DM-TiN coating
Titanium nitride (TiN) coatings are widely used for tools, dies, and other machine parts.
Our technology, the dynamic mixing (DM) method, can give sliding surfaces excellent characteristics suitable for mechanical seals for the following reasons.
Deposition at low temperature can reduce distortion.
Optimizing the ratio of Ti to N can achieve the required characteristics.
Excellent adhesion due to mixed layer formation near the substrate interface.

DLC coating
DLC (Diamond like carbon) consist of sp3 bonds (Diamond) , sp2 bonds (Graphite) and hydrogen, and is applied in a wide variety of fields.
DLC films are known to exhibit various properties by selecting the appropriate composition. And as a sealing material for mechanical seals, its structure is optimized for each specification. In response to the demand for reduced friction loss, we are also conducting research on the practical application of DLC films to further reduce friction force (coefficient of friction μ<0.01) .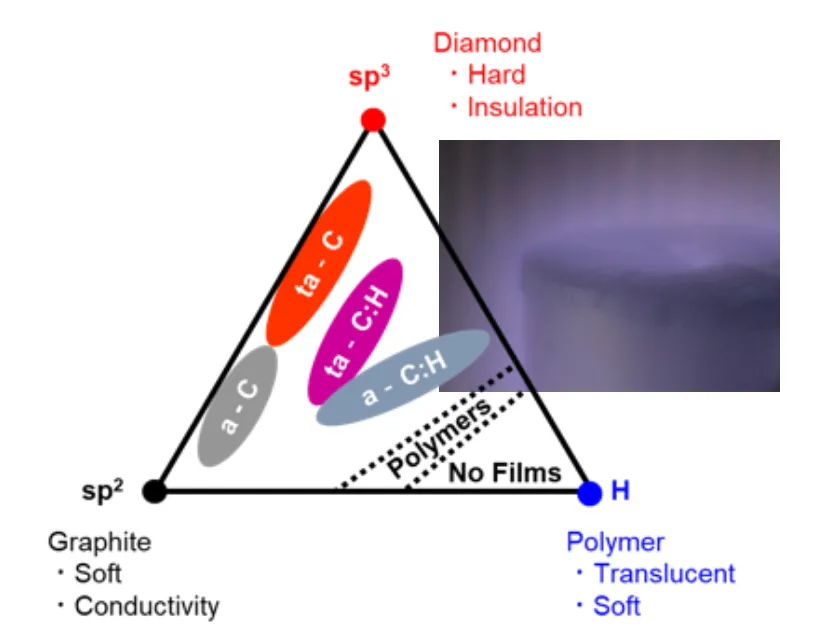 Diamond coating
Commonly known for its use in jewelry, diamond is widely applied in industrial applications due to its extremely high mechanical strength and chemical stability. However, diamond, the hardest of all materials, has the disadvantage of poor processability. We have realized mechanical seals with significantly improved wear and corrosion resistance by controlling the properties of polycrystalline diamond and using advanced processing technology.