Material technology
Among the materials used in our products, sealing materials (sliding materials) are particularly important, as they determine the performance of mechanical seals.
Seal materials are selected based on the operating environment (pressure, peripheral velocity (rotation speed), temperature, etc.) and the fluid to be sealed. EKK's mechanical seals are used in many situations and applications around the world, and we offer a wide variety of materials to precisely meet each need.
We select, sometimes develop and apply many of these sealing materials based on our experience and knowledge.
Inorganic material
Inorganic materials such as carbon and ceramics are most commonly used as sealing materials (sliding materials) for mechanical seals.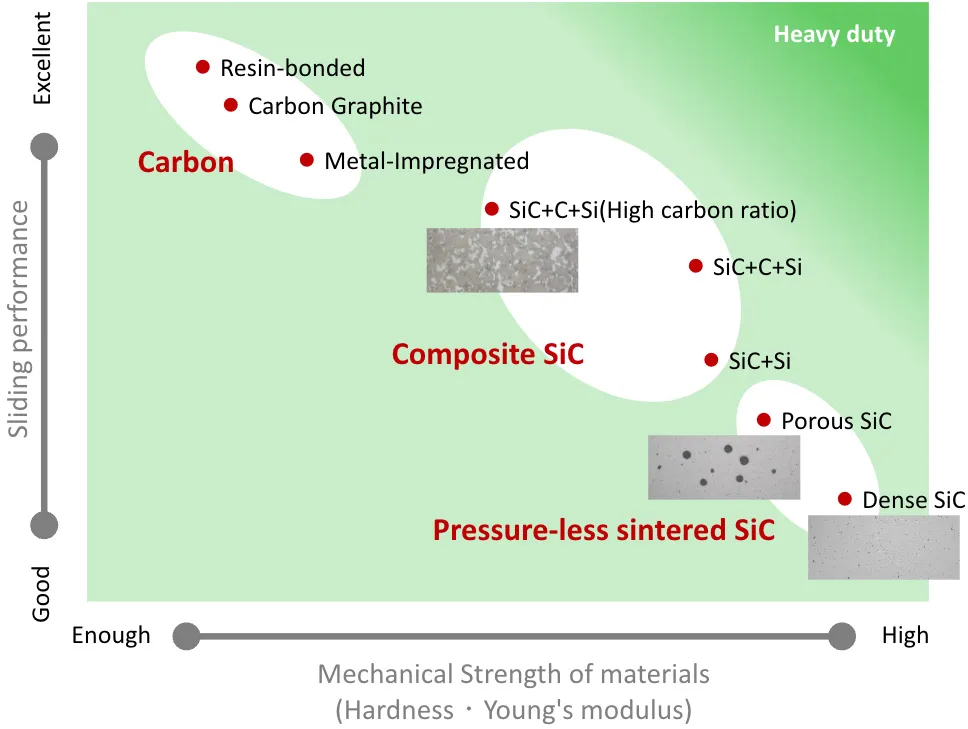 Carbon materials
Carbon materials have excellent self-lubricating properties, wear resistance,
heat resistance, and chemical resistance. Various characteristics can be given by choosing optimal compound, heat treatment temperature and a process.
We can develop and propose the carbon material for a customer by experience cultivated until now.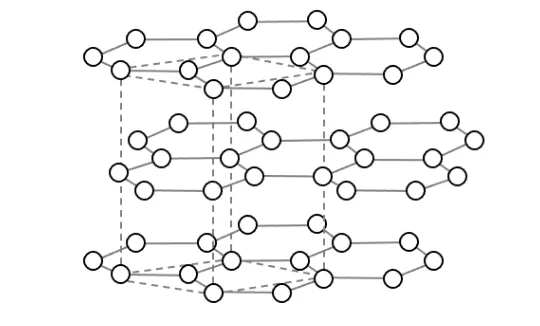 Composition
Resin-Bonded Carbon
Carbon Graphite
Resin-Impregnated Carbon
Metal-Impregnated Carbon
Characteristic
This type has left resin content by low-temperature heat treatment.
This type has carbonized resin content by high-temperature heat treatment.
This type has impregnated resin which is excellent in the sliding characteristic.
This type has impregnated metal which is excellent in the sliding characteristic.

Blister resistance
Wear resistance

Application

Mechanical Seals for Automobile industry
(e.g. Carbon bearing)
General purpose mechanical Seal

Mechanical Seals for Automobile industry
(e.g. Water pump seal)
General purpose mechanical Seal

Mechanical Seals for General industry

Mechanical Seals for General industry (Heavy duty)
Silicon Carbide (SiC)
SiC is widely used as a sealing material because of its superior mechanical strength, heat resistance, and corrosion resistance.
By controlling pores and adding carbon, the sliding properties of SIC can be improved. Therefore, by selecting the optimum grade according to the product specifications, we are able to meet the market requirements.
In addition, in order to respond to the requirements for mechanical seals, which require higher pressures and higher speeds, composite SiC materials that further enhanced lubricating properties while taking advantage of the characteristics of SiC are also applied.
SiC Composition
Feature

Excellent lubricating properties because of high carbon content
High fracture toughness

Combines the mechanical strength of SiC with the self-lubricating properties of carbon
For heavy duty

Easily processable and can be used for complex shapes

Suitable for mass production
Improving sliding performance by adding fine pores

Suitable for mass production
Excellent mechanical strength

Structure

SiC+C+Si

SiC+C+Si

SiC+Si

SiC(+Pores)

SiC
Metal
One of the sliding materials used in abrasive wear environments is special cast iron. Various alloying elements are added to special cast irons to improve their material properties, and their types and amounts are adjusted according to the required functions. During material development, the approximate composition can be determined by equilibrium state diagram calculations and other simulations, and then prototypes and evaluations can be made to efficiently find the optimum formulation.

Magnetic Fluid
To explain it simply, it's the liquid that sticks to the magnet, that is, the liquid that gets magnetized.
Magnetic fluid consists of the following three elements.
Magnetic fine particle
Surfactant
Base oil
By properly selecting these individual elements and ensuring their dispersibility and stability, they can be applied to magnetic fluid seals.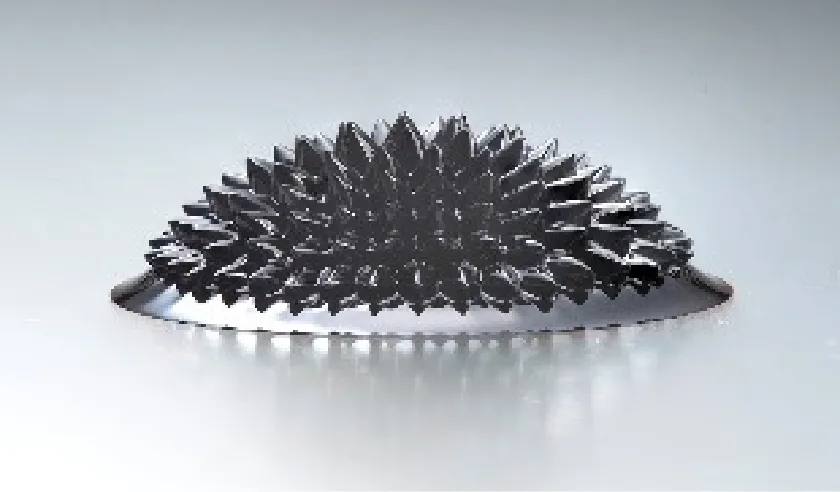 Superiority of Eagle Industry
Manufacturing know-how
Magnetic Fine Particle Size / Surfactant Structure / Adsorption Method for Magnetic Fine Particles
Purity of base oil – Affinity with surfactants / Dispersion treatment technology
Original development
Preparation of magnetic fine particles, surfactant synthesis, fluorine oil preparation, etc. are all carried out within the NOK group.
All procurement of main raw materials is completed within the NOK Group (good compatibility and stable procurement)
Top-class performance
Top-class performance with high-temperature durability, corrosion resistance, plasma resistance, ultra-low outgas resistance, and ultra-low vapor pressure.